Collets (DIN 6499)
A collet is used to hold small diameter workpieces and small diameter milling cutters. Collets normally accept material that is .001 inches over the collet size and .004 inches under the collet size. We manufacture collets of standard sizes listed below and the sizes according to the customers requirements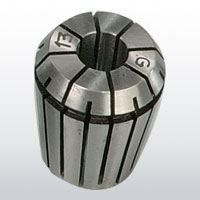 Advantages of Collets
The advantages of Gem Collets are:
Tools can be loaded quickly
Collets are very accurate
Maximum spindle speeds can be used
Compatible with all vertical machining centers and vertical milling machines
Benefits of Collets
The benefits of Gem Collets are:
Vibration Dampening
One of the benefits realized from a high-speed collet system is vibration dampening. The collet toolholder's vibration dampening yields many benefits including longer tool life, superior surface finish and less wear on the spindle—thereby increasing its life.
Accurate finish
Gem Collet have a flat shoulder design for heightened perpendicular force transfer, which eliminates the potential for twisting of the collet that can thereby add inaccuracies as it is tightened.
High speed
High-performance collet toolholder is balanced for operating at up to 40,000 rpm, allowing it to offer the ultimate in high speed, high accuracy and ultra smooth surface finishes.
Applications
The Gem collets are quick, clamp on a high percentage of the part surface, they don't have pressure points and they run very concentrically
Ideal for batch production of secondary operations using multiple spindles or in shops for prototyping
Collets allows a small part to be extended well into the cutting area, avoiding the potential for interference with the tooling or spindle nose
ER 11

| | |
| --- | --- |
| PART No. | D RANGE |
| ER 110 010 | 1.0 - 0.5 |
| ER 110 015 | 1.5 - 1.0 |
| ER 110 020 | 2.0 - 1.5 |
| ER 110 025 | 2.5 - 2.0 |
| ER 110 030 | 3.0 - 2.5 |
| ER 110 035 | 3.5 - 3.0 |
| ER 110 040 | 4.0 - 3.5 |
| ER 110 045 | 4.5 - 4.0 |
| ER 110 050 | 5.0 - 4.5 |
| ER 110 055 | 5.5 - 5.0 |
| ER 110 060 | 6.0 - 5.5 |
| ER 110 065 | 6.5 - 6.0 |
| ER 110 070 | 7.0 - 6.5 |
| ER 110 SET | 13 PCS |

ER 16

| | |
| --- | --- |
| PART No. | D RANGE |
| ER 160 01 | 1.0 - 0.5 |
| ER 160 02 | 2 - 1 |
| ER 160 03 | 3 - 2 |
| ER 160 04 | 4 - 3 |
| ER 160 05 | 5 - 4 |
| ER 160 06 | 6 - 5 |
| ER 160 07 | 7 - 6 |
| ER 160 08 | 8 - 7 |
| ER 160 09 | 9 - 8 |
| ER 160 10 | 10 - 9 |
| ER 16 SET | 10 PCS |

ER 20

| | |
| --- | --- |
| PART No. | D RANGE |
| ER 200 02 | 2 - 1 |
| ER 200 03 | 3 - 2 |
| ER 200 04 | 4 - 3 |
| ER 200 05 | 5 - 4 |
| ER 200 06 | 6 - 5 |
| ER 200 07 | 7 - 6 |
| ER 200 08 | 8 - 7 |
| ER 200 09 | 9 - 8 |
| ER 200 10 | 10 - 9 |
| ER 200 11 | 11 - 10 |
| ER 200 12 | 12 - 11 |
| ER 200 13 | 13 - 12 |
| ER 20 SET | 12 PCS |

ER 25

| | |
| --- | --- |
| PART No. | D RANGE |
| ER 250 02 | 2 - 1 |
| ER 250 03 | 3 - 2 |
| ER 250 04 | 4 - 3 |
| ER 250 05 | 5 - 4 |
| ER 250 06 | 6 - 5 |
| ER 250 07 | 7 - 6 |
| ER 250 08 | 8 - 7 |
| ER 250 09 | 9 - 8 |
| ER 250 10 | 10 - 9 |
| ER 250 11 | 11 - 10 |
| ER 250 12 | 12 - 11 |
| ER 250 13 | 13 - 12 |
| ER 250 14 | 14 - 13 |
| ER 250 15 | 15 - 14 |
| ER 250 16 | 16 - 15 |
| ER 25 SET | 25 PCS |

ER 32

| | |
| --- | --- |
| PART No. | D RANGE |
| ER 320 03 | 3 - 2 |
| ER 320 04 | 4 - 3 |
| ER 320 05 | 5 - 4 |
| ER 320 06 | 6 - 5 |
| ER 320 07 | 7 - 6 |
| ER 320 08 | 8 - 7 |
| ER 320 09 | 9 - 8 |
| ER 320 10 | 10 - 9 |
| ER 320 11 | 11 - 10 |
| ER 320 12 | 12 - 11 |
| ER 320 13 | 13 - 12 |
| ER 320 14 | 14 - 13 |
| ER 320 15 | 15 - 14 |
| ER 320 16 | 16 - 15 |
| ER 320 17 | 17 - 16 |
| ER 320 18 | 18 - 17 |
| ER 320 19 | 19 - 18 |
| ER 320 20 | 20 - 19 |
| ER 320 SET | 18 pcs. |

ER 40

| | |
| --- | --- |
| PART No. | D RANGE |
| ER 400 04 | 4 - 3 |
| ER 400 05 | 5 - 4 |
| ER 400 06 | 6 - 5 |
| ER 400 07 | 7 - 6 |
| ER 400 08 | 8 - 7 |
| ER 400 09 | 9 - 8 |
| ER 400 10 | 10 - 9 |
| ER 400 11 | 11 - 10 |
| ER 400 12 | 12 - 11 |
| ER 400 13 | 13 - 12 |
| ER 400 14 | 14 - 13 |
| ER 400 15 | 15 - 14 |
| ER 400 16 | 16 - 15 |
| ER 400 17 | 17 - 16 |
| ER 400 18 | 18 - 17 |
| ER 400 19 | 19 - 18 |
| ER 400 20 | 20 - 19 |
| ER 400 21 | 21 - 20 |
| ER 400 22 | 22 - 21 |
| ER 400 23 | 23 - 22 |
| ER 400 24 | 24 - 23 |
| ER 400 25 | 25 - 24 |
| ER 400 26 | 26 - 25 |
| ER 400 SET | 23 pcs. |

ER 50

| | |
| --- | --- |
| PART No. | D RANGE |
| ER 500 12 | 12 - 10 |
| ER 500 14 | 14 - 12 |
| ER 500 16 | 16 - 14 |
| ER 500 18 | 18 - 16 |
| ER 500 20 | 20 - 18 |
| ER 500 22 | 22 - 20 |
| ER 500 24 | 24 - 22 |
| ER 500 26 | 26 - 24 |
| ER 500 28 | 28 - 26 |
| ER 500 30 | 30 - 28 |
| ER 500 32 | 32 - 30 |
| ER 500 34 | 34 - 32 |
| ER 50 SET | 12 PCS |