Collet Chuck Holder (DIN 6499)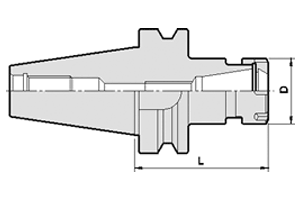 Advantages of Collet chuck holder
The advantages for Gem Collet Chuck Holders are:
Hardened and ground
For double slottet collets
Balanced dynamically
Benefits of Collet chuck holder
The benefits for Gem Collet Chuck Holder are:
Gripping force is spread over the entire circumference of the workpiece instead of being concentrated at just three points.
Jobs can be run at higher RPMs because collet chucks are not as vulnerable to the negative effects of centrifugal force.
Collet chucks offer better tool clearance and easier access to workpeice.
Collet changeover time is usually faster than changing chuck jaws.
No boring of jaws is required.
Collet chucks usually have much less mass than 3 jaw chucks, reducing wear on machine tool spindle bearings and allowing for quicker starts and stops.
Collet Chuck Holder

TAPER BT/ISO
PART No. MAS 403
PART No. DIN 69871-A
SUITABLE FOR COLLET
CLAMPING RANGE
L
D
NUT
SPANNER
STANDARD LENGTH
30
GEM/BT30/CCH/ER 16 070
GEM/BT30/CCH/ER 20 070
GEM/BT30/CCH/ER 32 070
-
-
-
ER16
ER20
ER32
1-10
1-13
2-20
70
70
70
28
34
50
NUT/ER16
NUT/ER20
NUT/ER32
GEM/SP ER 16
GEM/SP ER 20
GEM/SP ER 32
40
GEM/BT40/CCH/ER 16 070
GEM/BT40/CCH/ER 20 070
GEM/BT40/CCH/ER 25 070
GEM/BT40/CCH/ER 32 070
GEM/BT40/CCH/ER 40 070
GEM/ISO40/CCH/ER 16 070
GEM/ISO40/CCH/ER 20 070
GEM/ISO40/CCH/ER 25 070
GEM/ISO40/CCH/ER 32 070
GEM/ISO40/CCH/ER 40 070
ER16
ER20
ER25
ER32
ER40
1-10
1-13
1-16
2-20
3-26
70
70
70
70
70
28
34
42
50
63
NUT/ER16
NUT/ER20
NUT/ER25
NUT/ER32
NUT/ER40
GEM/SP ER 16
GEM/SP ER 20
GEM/SP ER 25
GEM/SP ER 32
GEM/SP ER 40
50
GEM/BT50/CCH/ER 16 080
GEM/BT50/CCH/ER 20 080
GEM/BT50/CCH/ER 25 080
GEM/BT50/CCH/ER 32 080
GEM/BT50/CCH/ER 40 080
GEM/ISO50/CCH/ER 16 080
GEM/ISO50/CCH/ER 20 080
GEM/ISO50/CCH/ER 25 080
GEM/ISO50/CCH/ER 32 080
GEM/ISO50/CCH/ER 40 080
ER16
ER20
ER25
ER32
ER40
1-10
1-13
1-16
2-20
3-26
80
80
80
80
80
28
34
42
50
63
NUT/ER16
NUT/ER20
NUT/ER25
NUT/ER32
NUT/ER40
GEM/SP ER 16
GEM/SP ER 20
GEM/SP ER 25
GEM/SP ER 32
GEM/SP ER 40
EXTENDED LENGTH
40
GEM/BT40/CCH/ER 16 105
GEM/BT40/CCH/ER 20 105
GEM/BT40/CCH/ER 25 105
GEM/BT40/CCH/ER 32 100
GEM/BT40/CCH/ER 40 100
GEM/ISO40/CCH/ER 16 105
GEM/ISO40/CCH/ER 20 105
GEM/ISO40/CCH/ER 25 105
GEM/ISO40/CCH/ER 32 105
GEM/ISO40/CCH/ER 40 105
ER16
ER20
ER25
ER32
ER40
1-10
1-13
1-16
2-20
3-26
105
105
105
100
100
28
34
42
50
63
NUT/ER16
NUT/ER20
NUT/ER25
NUT/ER32
NUT/ER40
GEM/SP ER 16
GEM/SP ER 20
GEM/SP ER 25
GEM/SP ER 32
GEM/SP ER 40
50
GEM/BT50/CCH/ER 16 120
GEM/BT50/CCH/ER 20 135
GEM/BT50/CCH/ER 25 135
GEM/BT50/CCH/ER 32 135
GEM/BT50/CCH/ER 40 135
GEM/ISO50/CCH/ER 16 120
GEM/ISO50/CCH/ER 20 135
GEM/ISO50/CCH/ER 25 135
GEM/ISO50/CCH/ER 32 135
GEM/ISO50/CCH/ER 40 135
ER16
ER20
ER25
ER32
ER40
1-10
1-13
1-16
2-20
3-26
120
135
135
135
135
28
34
42
50
63
NUT/ER16
NUT/ER20
NUT/ER25
NUT/ER32
NUT/ER40
GEM/SP ER 16
GEM/SP ER 20
GEM/SP ER 25
GEM/SP ER 32
GEM/SP ER 40